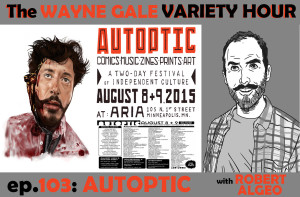 AUTOPTIC–the 2 day festival of Independent culture on AUGUST 8th and 9th–is next weekend!
If you don't know what that means–On the 103rd episode of the WAYNE GALE VARIETY HOUR podcast DANNO KLONOWSKI is joined by cartoonist, sequential art instructor, and festival co-organizer ROBERT "BOB" ALGEO to explain all!
We get into what the event is, how it differs from what your idea of a comic convention is,and have an overview of the special guests and exhibitors. DANNO and BOB also pick an Autoptic exhibitor highlight in Autoptic's own self-defined mission statement topics of: COMICS, MUSIC, ZINE, PRINTS and ART!  
….And BOB has to take a spelling test.

http://www.cartoonistconspiracy.com/sushipodcast/2015/07/the-wayne-gale-variety-hour-ep-103-autoptic-with-robert-algeo/