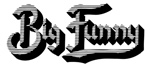 BIG FUNNY has just been reviewed at Optical Sloth. Read it here.
It's a remarkable achievement, and if anybody is going to be in Minneapolis on August 7th you should click that website for details on picking up a copy. If you get one there, it's a measly $5 for this beast. If not you'll have to pay for shipping, which just about doubles the price, but this thing is utterly unique in the comics world and worth the expense. I'm old enough to remember pulling the funnies out of the Sunday paper, spreading them out on the ground, laying down to read them and have them actually be funny.
Also… a photo preview of the show from editor and Local Hero Kevin Cannon on the Big Time Attic Blog!