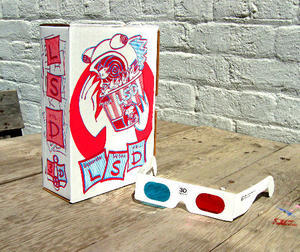 Lutefisk Sushi Volume D opens this Friday! The show features a limited-edition (150), hand silkscreened, 3D bento box full of mini-comics by over 50 Minnesota cartoonists for only $25! See original art and other work by the cartoonists all over the walls of the gallery, including a bunch of work by featured artist Danno Klonowski (Manly Tales of Cowardice). Also, don't miss little funny Series II, small boxes of micro-comics sold out of an old cigarette vending machine.
The show has been included in the A-List in this week's City Pages.
Please tell your friends, blog readers, social networking website compadres, co-workers, parents, cousins, casual associates, and random people on the street of the opening this Friday, August 6th from 7 – 10 PM at Altered Esthetics!
Altered Esthetics • 1224 Quincy St NE, Mpls MN 55413   •   612.378.8888
Promotional materials below.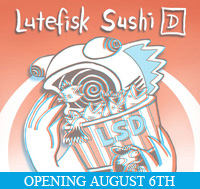 Postcard Resources!
Misc Show Sites