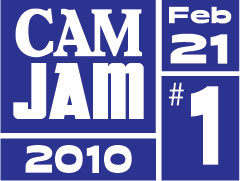 The Cartoonist Conspiracy San Francisco and the Cartoon Art Museum Bookstore present CAM-JAM 2010 – #1 on Sunday February 21, 2010! 11:30 am to 5:30 pm

It's a New Year and time for more collaborative comic jam fun with the artist from the Cartoonist Conspiracy San Francisco. Spend the day drawing and creating with a local talent while we challenge ourselves to create and print a mini-comic with the events theme(s) by the end of the day. The themes for this CAM-JAM are: Brush and Ink, Samurai and Superhero, Poetic and Wordless.
Where: Lobby of the Cartoon Art Museum, 655 Mission St. San Francisco CA
When: Sunday February 21, 2010 – 11:30 am to 5:30 pm
Cost: FREE, but copies of the final mini comic will cost the price of printing. ++
What (to bring): Yourself and your favorite drawing tools, especially your favorite brush pen. Feel free to bring clippings/copies of reference that fits the theme as well as your networking paraphernalia.
How – Schedule below: (note: you are not required to attend the whole day, but you are encouraged too)
11:00 am – Set-up and schmooze.
11:30 am – Warm-Up Jam: Group Mash-up Character Design.
12:00 pm – Our Warm-up Jam drawings will taken and scanned while we set up for the mini-comic jam. Note: If you worked on the Warm-Up Jam drawings and stay till the end, you get to take a drawing home with you. Free art, woot!
Feel free to bring printouts/clippings of inspiration based on this sessions themes to share.
Set up to draw. Take a break for a quick lunch or snack.
12:30 pm Start the Comic Jam!
We will break into small teams of 2-4 artists who will be tasked with creating a short 2-8 page comic using the themes of the event. Card stock will be provided to draw on and some ink and brushes to try, but feel free to bring your favorite tools too.
A few volunteers will be helping us to scan pages when your team finish one, so we should be able to get the work on-line/printed faster then last year.
4:30 pm STOP
While any last pages are quickly prepped/scanned to make copies, the group will work on the final cover.
Everyone cleans up! Shop at the bookstore!
A team of expert copiers will jet on over to the copy store while any remaining artist will help vote on their favorite Warm-Up Jam drawings that are now displayed on the Bookstore Wall. There might be a possible prize as well.
5:00 pm ish Book arrive for you to take home with samples of everyone's work. **
** Each artist can get copy(s) of the final Mini-Comic at cost; a few extra copies will be available at the bookstore for a full price as our way of helping this wonderful non-profit museum out.
++ (Legal stuff) By participating in the Jam you are giving permission for your work to be placed on-line by the Cartoonist Conspiracy San Francisco and that a limited number of books can be sold as a fundraiser for the Cartoon Art Museum through its bookstore. Every effort to give credit and promote the participants will be made.
Random Numbers will be given by anyone who did the Warm-Up and we will go in order with each person taking an original drawing home.
5:30 go out for food/drink and schmooze, draw more, network, have fun.
So, why not join us?
Questions: Contact the CCSF organizer Brian Kolm at staff@atomicbearpress.com
Hope to see you there.