Looking for a one-of-a-kind Holiday Gift in the San Francisco Bay Area?
On Sunday November 29, 2009 artists will be on hand at San Francisco's Cartoon Art Museum Bookstore for their first ever 'Cartoon Holiday Boutique'. Partnering with the artists from the Cartoonist Conspiracy San Francisco, they will create original one-of-a-kind hand made cards, artwork and gifts at reasonable prices. The event will feature 5.5″ X 8.5″ greeting cards and 8.5″ x 11″ artwork originals for sale as well as locally produced zines and comics and other treasures.
Imagine giving the gift of original artwork that is custom made for you in a very short time. So come on by between 11:30 am and 5:00 pm and find something special for that someone special.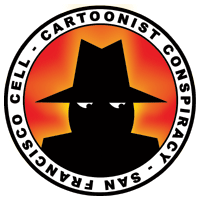 Please comment!