Hooray! Chapter four of Far Arden, Kevin Cannon's 288 Hour cliffhanger serial of a comic featuring Armitage Shanks, Arctic Pirate (which you can read more about here) has been posted! You can start at the beginning here, or click on the image below to start at chapter four if you already read the first three.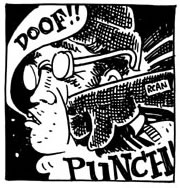 I recommend starting at the beginning even if you've already read it, as even in its incomplete state (currently one third completed!), the story is complex and layered, and already greatly rewards rereading.
Make sure to leave comments and encouragement for Kevin on the Big Time Attic blog here!