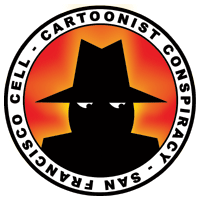 Well tomorrow is the second comic Jam in San Francisco for August 2008, will you come and draw with us. We expect a good turn out even though some of our group is at Burning Man.
The Cartoonist Conspiracy San Francisco meets every SECOND and LAST Thursday of the month from 6:30 pm till about 9/10 pm and artist of all skill levels and talents are invited to come on out and draw with us. So grab your favorite drawing tools and join the fun.
WHERE: We meet at the Church Street Café at 260 Church Street San Francisco, CA 94114.
WHEN: 6:30 pm to 9/10 pm
TRANSPORTATION: We encourage you to take public transportation if at all possible since parking can be hard to find.
— From BART on Market St.: 1) You can take the above ground F line going away from the embarcaradero twords the Castro neighborhood. 2) Take the K,L,M on the Underground Muni and get off at the Church St. Station 3) take the J underground and get off at the first stop above ground, next to the big Safeway store or the next stop which is past the café 4) Take the other underground lines and get off at the first outside station which is only two or so block from the café.
Visit http://www.511.org/ to get the full details on how to get to the JAM.