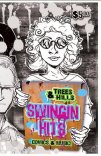 Swingin' Hits by Anne Thalheimer, Bill Couture, Blake Parker, Chris Grotke, Colin Tedford, Colleen Frakes, Daniel Barlow, Jade Harmon, Jennifer Omand, Kathie Mullen, Keith Moriarty, Marek Bennett, Marianne R. Petit, Matt Levin, Tim Hulsizer.
The fourth Trees & Hills anthology is themed around music, from the powerful memories that music can conjure to the joy in creating it and performing before an audience. Includes a bonus audio CD of music by cartoonists! (namely Jennifer Omand & Matt Talbot, Lucy Knisley, Marek Bennett, Keith Moriarty, James Kochalka, Chris Grotke, Tim Hulsizer, Cayetano Garza, and Colin Tedford.) Edited by Daniel Barlow & Colin Tedford. Cover by Gregory Giordano.
5.5″ x 8.5″, 52 pgs. Available now for $5.00 at Trees & Hills Comics Distro!