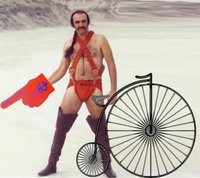 If you are planning on joining in the fun at AE this Saturday, please note that the times have changed! The Arty Garage Sale will be starting at noon, not 7am. Peruse the schedule below for more info.
Arty Garage Sale 12pm-5pm
– Lots of great crap
– Abandoned artwork
– Frames
– more!
Bike Art Artists' Discussion 1pm-3pm
– A thoughtful discussion with artists and curators from the Bike Art show
Bikini Bike Wash 3pm-5pm
– Tuneups and checkups from Behind Bars
– Bike Washes from the Bawdy Blue Burlesque Review
– Zardoz*
It's going to be a rip-roarin' good time.
(*Event may or may not have Zardoz)
2 comments... Thanks!