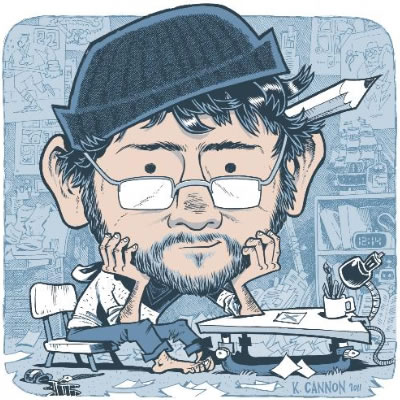 There has been a whole lot of coverage of the Minnesota cartooning scene recently… here is a round up.
First of all, the excellent Star Tribune story about the Twin Cities cartooning scene by Tom Horgen from last Sunday's paper can now be read in its entirety online. Don't miss the video with Peter Gross and the gallery in the sidebar.
In their ongoing 100 Creatives series at the City Pages, they have now covered Local Hero Kevin Cannon, Zander Cannon, Lars Martinson, DWITT, Adam Turman and Altered Esthetics' own Kara Hendershot, among many other great local artists.
Twin Cities Public Television recently did a feature on Zak Sally.
The Daily Crosshatch just posted videos of Lars Martinson's "How to Self-Publish a Graphic Novel in 8 Hard Steps" presentation from the 2010 Graphic Novel Writing & Illustrating Conference sponsored by the Loft Literary Center in Minneapolis, MN.
The Daily Crosshatch also recently ran an interview with Pete Hodapp the cartoonist responsible for what was probably my favorite comic in the Lutefisk Sushi Volume D box, The Possum and the Pepper Spray. Apparently part 2 of the interview is coming soon.
Tom Kaczynski was recently interviewed at the Comix Claptrap.