The next Cartoonist Conspiracy San Francisco Comic Jam is this Thursday, March 25, 2010 at the Borderland Cafe on Valencia St. 6:30 to 9/10.
We will draw up a storm and maybe we can chat about the upcoming Wondercon 2010 on Easter Weekend and plans to network.
Location: 870 Valencia Street
San Francisco, CA 94110
(415) 970-6998
NOTE: The event is FREE, but don't forget to maybe buy a drink or snack when you come to the Jam. Alan, the owner has been staying open an extra hour for us and we should make it worth his while.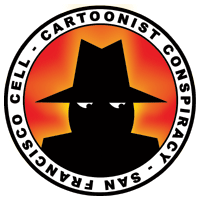 Please comment!