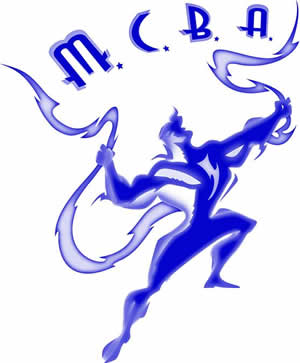 MICROCON is this Sunday! Our good friends at the Midwest Comic Book Association always put on a great show, and are wonderful hosts to creators… as is true every year, you won't want to miss it! Read more about MICROCON here.

Here is a banner you can put on your website or social networking page to help promote the event… and remember to tell your friends!
MCBA MICROCON COMIC BOOK PARTY
SUNDAY APRIL 26, 2009 – 10AM TO 4PM

THE PROGRESS CENTER – ON THE MINNESOTA STATE FAIRGROUNDS!

1621 Randall Avenue – Saint Paul, Minnesota 55108

One of the oldest and by far, coolest buildings on the Minnesota State Fairgrounds!

Directions: Enter the Fairgrounds via the Snelling entrance (Eastside) go straight for two blocks and make a right (North) and proceed to the Progress Center.

Parking: Free Parking abounds! Just make sure to pay attention to the street signs!
Handicapped parking is available!

Hello Everyone,

The 2009 MicroCon Comic Book Party is this Sunday!

The staff and the volunteers of the Midwest Comic Book Association are happy to announce all systems are go for this weekends MCBA Comic Book Party! Things are looking great and you'll be happy to know that there have been some very cool last minute Guest Creator additions (like Mike Grell – www.mikegrell.com), a few dealer changes and the number of prizes and surprises continues to grow!

While at MicroCon, please make sure that you get entered into this years MicroCon Prize Drawings! We've had some terrific prize donations!It's free and you need not be present to win. Also, keep in mind that the first 500 attendess get a free MCBA Grab bag!

You, your family & friends are invited to join us, our family & friends at the MicroCon Comic Book Party! It's going to be a blast!

Finally, we've update some of the information listed below. We hope you get a chance to look it over!

Thanks for your time and we look forward to seeing you this weekend!

The MCBA Comic Book Geek Squad – The "Original" Geek Squad!

PS. We received a last minute appeal to come to the aid of a comic book industry legend. (Please see immediately below). Let's step up and show him what we can do!

A PLEA FOR HELP – AN INDUSTRY LEGEND NEEDS US!
WeinAs many of you already know, the home of comics creator Len Wein (Swamp Thing, X-Men, etc.) was destroyed in a fire on April 6th, 2009. He, his wife Chris, and his son Michael were unharmed, but their beloved dog Sheba and Len's extensive comics collection both perished.

There is now an effort to restore Len's comics collection, particularly the books he worked on. If you've ever gotten pleasure From reading his books, or if you simply have some of these titles in your collection, please consider donating them to this cause. Insurance covers many things, but the comics weren't under that umbrella.

Here's how you can help:
* Please check the .pdf document listed below.
* Search your comics collection for items you can contribute.
* E-mail comix4len@povonline.com with the items you intend to donate
(so they can update the list).
* Bring them to the MCBA Spring Show, and hand them to either Christopher Jones or Melissa Kaercher. They will both have table space at the show.
* We will take it from there!

Other things you want to know:
Mark Evanier (POVOnline) is coordinating the effort. Please check this page on his site for updates: http://www.povonline.com/weinproject.htm

The .pdf document of comics can be found on that page, but this is the direct link. It will be updated frequently: http://www.povonline.com/Len%20Wein%20checklist.pdf

If you have questions, you can contact any of the following people:
Melissa Kaercher chebutykin at visi.com Christopher Jones christopherjonesart at gmail.com
Mark Evanier comix4len at povonline.com

We thank you for your help! Melissa Kaercher & Christopher Jones
Please comment!