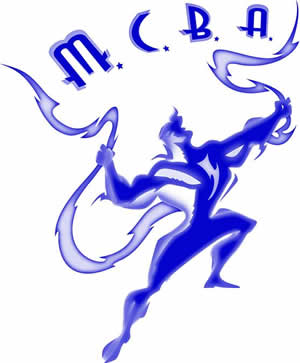 MICROCON is coming up very soon. Our good friends at the Midwest Comic Book Association always put on a great show, and are wonderful hosts to creators… as is true every year, you won't want to miss it! Read more about MICROCON here.

Here is a banner you can put on your website or social networking page to help promote the event… and remember to tell your friends!
Hello Everyone,

It's hard to believe that the 2009 MicroCon Comic Book Party is just a few weeks away!

During our never ending Winter, the staff and volunteers of the Midwest Comic Book Association, an all volunteer, not-for-profit, group have been happily working away and getting ready for the launch of the super spectacular MicroCon 2009!

Look for some changes in this years event! Every year MicroCon grows and evolves and this year is no exception! The Guest Creator list is bigger, the Dealer list is more diverse, the layout of MicroCon is different (so make sure you get a chance to look around the whole place!), and we've added some unusual goings on!

And while change and growth is good, somethings at MicroCon are staying the same! As always, look for friendly staff, easy Guest Creator access, hundreds of prizes & grab bags, a terrific 55,000 square foot marketplace, a world of surprises and much more!

What we're really trying to say is that we're inviting you and your family/friends join us at the MicroCon Comic Book Party! The only thing cooler than doing something fun, is sharing the fun with someone else or with your community and we love being part of that community!

MicroCon is a Comic Book Party where everyone is welcome and there's something for everyone!

Finally, as promised, here's some new information about the "One Day Wonder!" and a couple of other related factoids laced with comic book shenanigans!

Thanks for your time and we look forward to seeing you soon!

The MCBA Comic Book Geek Squad – The "Original" Geek Squad!

MCBA MICROCON COMIC BOOK PARTY
SUNDAY APRIL 26, 2009 – 10AM TO 4PM

THE PROGRESS CENTER – ON THE MINNESOTA STATE FAIRGROUNDS!

1621 Randall Avenue – Saint Paul, Minnesota 55108

One of the oldest and by far, coolest buildings on the Minnesota State Fairgrounds!

Directions: Enter the Fairgrounds via the Snelling entrance (Eastside) go straight for two blocks and make a right (North) and proceed to the Progress Center.

Parking: Free Parking abounds! Just make sure to pay attention to the street signs!
Handicapped parking is available!
2 comments... Thanks!