From the TagTeam.TV website:
Our friend John Bush created this illustration for the Tag Team website, just months before his untimely death of non-smokers lung cancer in 2006. John was a talented illustrator, whose cartoons were featured in St. Paul Pioneer Press, Mpls. St. Paul Magazine, and many other publications.
He was also a diehard Packer fan, who proudly heralded from La Crosse, Wisonsin. But most importantly, he was a beloved husband, devoted father of three, and friend to many. We miss him.
My aunt Virginia lives in Edina. Over the past several years, as my cartooning has grown from interest to obsession, she's occasionally mentioned an old friend and neighbor of hers, the late cartoonist John Bush.
More recently, she mentioned to Bush's wife, Nancy, that she has a niece who likes making comics. Nancy said that she's been going through some of her husband's old art supplies, and would I be interested in taking any of them? I said, of course!
Aunt Virginia drove to my parents' house in Northfield for a visit this weekend. She left the supplies from Nancy on their giant basement craft table. Thus it was that, on this snowy Minnesota morning, I found myself gazing upon…the holy grail of art supplies!
Box upon box of every kind of art supply, ranging from functional to fanciful!
I'm always intrigued by the materials that fellow cartoonists use: if I could, I would poke my way into all of their personal studios, to get a detailed idea of what they use, how they use it, and how they organize it.
To have so many of John Bush's art materials bestowed upon me is one of the coolest things that has ever happened to me as a cartoonist. I only wish I could ask him about this stuff, to learn more about how he used it. I'm not even sure what all of it is, or if he actually used all of it. Maybe, like my mom and me, he was a guy who never passed up an opportunity for cheap craft and art supplies–especially the weird used stuff found in junk boxes at garage sales.

(Do any cartoonists out there know how to use that thick rubber stuff? Does anyone have any idea what that giant hole-puncher thing is for?)
The paper was one of the most exciting parts to me. There is so much of it. In every size and weight and style you can think of! Lots and lots and lots of Bristol.

(Is anyone familiar with that strange TV Paper? Is it for storyboarding? It's got those little TV screens printed on every sheet.)
There are all kind of mattes for framing things. And rub-on letters and numbers that I'm curious to test out in a comic sometime soon. And stack after stack of sketch paper!
Then there are the paints. I have almost zero experience with painting, but my younger sister, a studio art major at Grinnell College, will no doubt find much use for them.


Coolest of all? Some copies of a poster Bush made for a local jazz radio station…and a page of some of his original doodles! They remind me a bit of Jules Feiffer. I like them.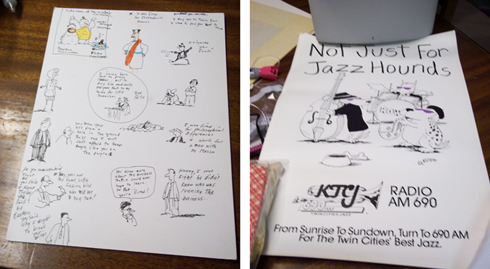 Cartoonists are good people. I never get tired of learning about them. I really loved this opportunity to peek into John Bush's creative process, by way of the tools he left behind. I will think of him whenever I use them.