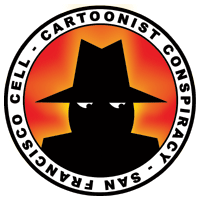 Come to the Cartoon Art Museum Book store and help create a
Collaborative Jam Comic on Sunday May 31, 2009.
Join the creative folks of the Cartoonist Conspiracy of San Francisco
(CCSF) in a fun all-ages Comic Jam hosted by the Cartoon Art Museum
Bookstore. Artist of any age or skill level can join the CCSF in
making a collaborative comic where anything can happen. It's FREE so
come join us from 11 am to 5 pm outside the Bookstore. Also featuring
book signings from many of the CCSF comic creators who work can be
purchased in the Bookstore.
So come on down and join the Comic Jam with the Cartoonist Conspiracy
San Francisco.
Details of featured artists will available soon.
You can follow the Bookstore on Facebook by looking for Sparky Joe or on Twitter by following CAMBookstore
Please comment!