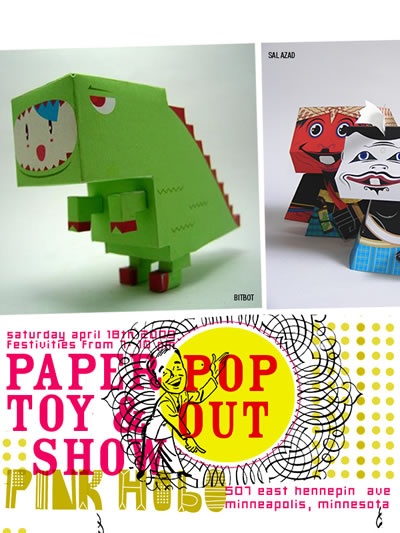 Our good friends at Puny Entertainment have their new PINK HOBO gallery opening this weekend… so, with the Altered Esthetics 5th Anniversary show on Friday, if you're in the Twin Cities, it looks like your whole weekend is planned!
Their first show is the Paper Toy and Popout show… and it looks like it will be quite a show from the impressive and international line-up of artists… they are launching with a big bang. You'll also want to check out their extremely fun-looking line-up of upcoming shows for the rest of the year.
PINK HOBO'S PAPER TOY AND POP-OUT SHOW
where: PINK HOBO 507 East Hennepin Ave
day: Saturday, April 18
time: 7pm – late
More Info:
pinkhobo.com
facebook & twitter.
Please comment!