Category Archive
The following is a list of all entries from the General Updates category.
Opening night may seem like it's a long way off, but you know how summer can fly by. Before we know it, copies of Just Add Ink will be in our greedy hands, and we'll be partying at AE. So we're starting to think about schwag to accompany the books. Here are some of the ideas we've kicked around:
refrigerator magnets
buttons
button magnets–two birds, one stone!
mugs
potholders
aprons (possibly screen-printed?)
turkey basters
napkins
measuring cups
egg timer
magnetic bottle openers
jar openers
recipe/note tablet
magnetic list pads
Lots of great ideas so far, but we're still in the brainstorming phase. Help us narrow down the list by letting us know what kinds of tchotchkes and/or useful things you'd like to have in your kitchen.
---
Hi!
A quick note from the show committee – when sending in your submissions, please follow the submission guidelines.
None of the guidelines are arbitrary. We ask for the exhibition contract because that's a gallery and insurance requirement, and if you don't submit that along with the work, we have no idea how to contact you and we don't have the rights we need to include your work(s) in the book.
We tried really hard to make this process as easy, clear, and accessible as possible – even doing open and free workshops to answer any questions. (BTW – The next workshop is this Sunday, May 22nd at Altered Esthetics at 1pm.) We even have a team answering questions 24/7 on the internetz – so don't hesitate to shoot us an email if something seems unclear.
If you are one of the two people that did not send in an exhibition contract with your work, you need to send it to us by June 15th and note clearly what submission it applies to.
And for anybody else that hasn't sent in their submission – please make sure to have your submission(s), Reimbursement Form (if you are asking for reimbursement) and the Exhibitions Contract.
Thanks!
-Jamie
---
Just Add Ink: A Comic Book Cookbook will be an anthology collecting comic strip recipes and cooking tips from a host of cartoonists from Minnesota and around the world. Its release will be accompanied by a gallery show in August to be held at Altered Esthetics gallery.
Submission Deadline: June 15, 2011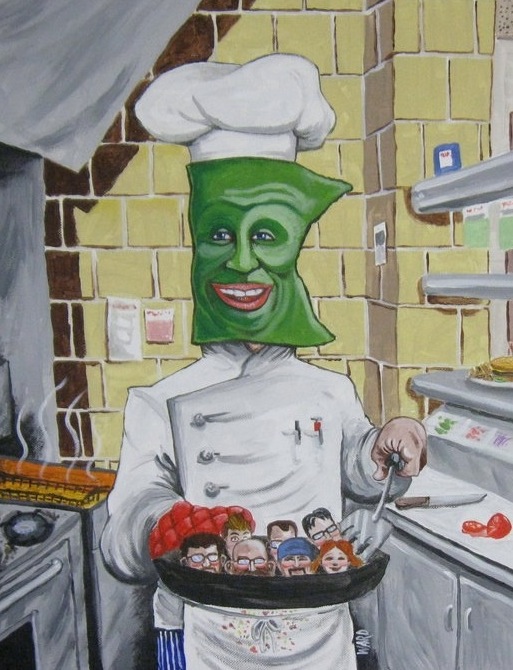 Our above cover image is by featured artist Lance Ward. Click it to see a larger version.
Read more about how to submit to the show here, and download the submission guide here. (PDF)
Opening Reception
Friday, August 5, 2011 – 7pm-10pm
Artists' Discussion
Saturday, August 20, 2011 – 1pm-3pm
---