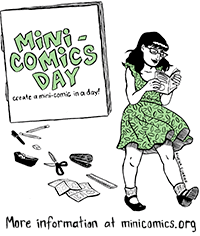 Mini-Comics Day is coming up fast! Tell your friends!
If you plan on hosting a Mini-Comics Day event, contact us at

to have your event added to the list. Read more about what is involved in hosting an event in the FAQ.
In Minneapolis, we'll be having a Mini-Comics Day mini-comics swap in the evening at a location to be determined.
Please comment!