The Cartoon Art Museum is honored to celebrate the life and work of cartoonist Creig Flessel with a special exhibition opening on Flessel's 96th birthday, February 2, 2008. The exhibition will include over 30 examples from Flessel's long creative career, including original comic book artwork from the 1930s, newspaper advertisements from the 1950s, comic strips from the 1960s, Playboy cartoons from the 1980s and recent commissioned artwork from the 1990s onward.
Mr. Flessel created both the Sandman as well as the Shining Knight who are still part of the DC Comics Universe. The San Francisco Chronicle has a list of 11 things about the artist HERE.
Mr. Flessel is still doing art as well, check out this nice drawing he did for the late cartoonist Phil Frank when he was in the hospital. If I can only be so lucky to create art half as good when I am 96 years old.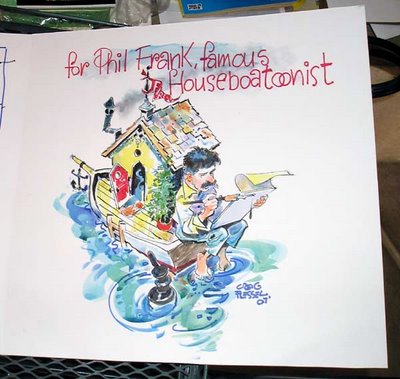 Please comment!