The last St. Paul Cartoonist Conspiracy jam comic for 2007 was finished nearly three weeks ago.
Turns out that traveling during the holidays takes a lot out of a person and their desire to do anything. Thus, three weeks later, you are presented with "Krampus Returns."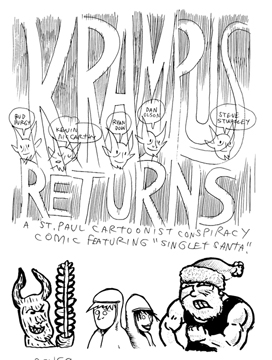 The St. Paul Cartoonist Conspiracy meets every third Thursday of the month at Cosmic's Coffee Shoppe, which is located at the northwest corner of Snelling Ave. and Selby Ave.
Meanwhile, our crosstown rivals, the Minneapolis Cartoonist Conspiracy meet every first Thursday of the month (TOMORROW!) at Diamond's Coffee Shoppe from 6 – 10 PM. See the following post for more details.