Happy Halloween to everyone from the Cartoonist in the San Francisco Cartoonist Conspiracy. This year we have a treat for you (no tricks) with a brand new Jam Comic to read on-line.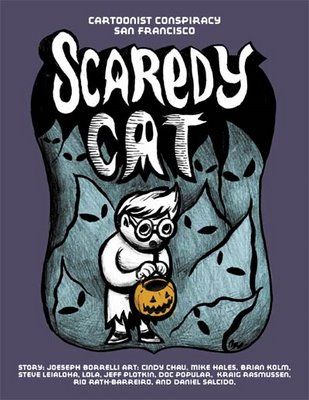 The above E-Book includes a 9 page comic as well as concept art that was created to keep the characters looking close from page to page. Scaredy Cat was the SF-Cell's first attempt at working from a script written specifically for a comic book.
The script is by Joe Borrelli with Art by these talented folks:
Cindy Chau, Mike Hales, Brian Kolm
Steve Leialoha, Lola, Jeff Plotkin, Doc Popular
Kraig Rasmussen, Rio Rath-Barreiro, and Daniel Salcido
WE LOVE FEEDBACK, so don't be shy about letting us know what you think about the work. It's easy to leave a comment and anyone can do it. Just click on the comment link below.
HAPPY HALLOWEEN EVERYONE!
2 comments... Thanks!