Rain Taxi is bringing Jim Woodring to town!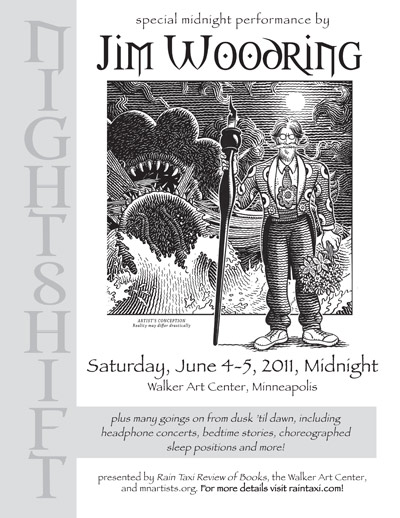 Jim Woodring: Artist Talk and Performance
Walker Cinema, Midnight
for directions, click here.

A man is drawing with a seven-foot-long pen. The nib is sixteen inches and made of brass-plated, cold-rolled steel. The handle is lathe-turned poplar, painted with black lacquer. The ink is a specially formulated acrylic blend. A large vase functions as the inkwell.

This isn't a dream but rather a live performance with famed underground cartoonist Jim Woodring. At this special Nightshift event, the author of Seeing Things, The Frank Book and Weathercraft will draw live on-stage at the Walker with his handcrafted Giant Pen—an oversized version of the classic steel dip pen nib and wooden handle used by artists and calligraphers. Woodring will be making large ink drawings (up to 6 feet) while conversing with the audience as he works, and it will all add up to an in-depth tour through his surreal oneiric landscape.

Woodring's Giant Pen was built with funds raised through United States Artists Special Projects.
Please comment!