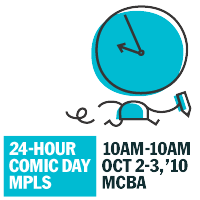 From the official Conspiracy 24 Hour blog:
This year's Minneapolis 24-Hour Comic Day will be held at Minnesota Center for Book Arts on Washington Avenue near the Humphrey Metrodome. It's right down the street from Big Brain Comics, Grumpy's Bar and the Guthrie Theater.
We will be at MCBA from 10 a.m. to 10 a.m. Saturday-Sunday, October 2-3.   Sign-up on our Facebook page, or by contacting us at 24hourcomicday@gmail.com
Please comment!