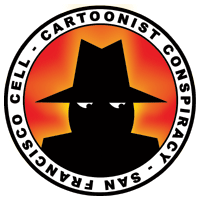 The next Cartoonist Conspiracy San Francisco comic jam Tomorrow, Thursday January 14, 2010.
From 6:30pm to 9ish or 10ish.
Church St. Café
260 Church St
(between 15th St & Market St)
San Francisco, CA 94114
(415) 621-2233
Bring your favorite art materials and your artist friends.
Let's make some comics!
Please comment!