Fallcon is this weekend!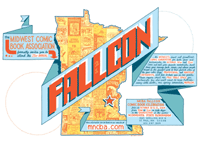 Click the above image to go to the Fallcon website.
We have some volunteers for Fallcon this year, but we could definitely use some more. We're planning to have a "Conspiracy lounge" again this year. Ideally, we would like a minimum of two people to be in the lounge at all times during the convention. It is a pretty casual and fun affair, and a good opportunity to get to know some of your fellow cartoonists better. We also need some comfy couches and chairs, if you can bring them. If you can volunteer or provide weekend furnishings for the lounge, please contact me at:

Thanks much!
1 comment... Thanks!