Our good friends at the Midwest Comic Book Association have a new website, so you'll want to reset your links to them and update your bookmarks. For those of you not familiar with the MCBA, they are the organization that puts on our two big local, annual comic conventions in the Twin Cities, Fallcon and Microcon. Both conventions are renowned for their hospitality… the MCBA offers free table space to creators (until they run out). Additionally, they were a big sponsor of our BIG FUNNY project this year… indeed, it would not have been possible without them.
Can you believe the 21st Fallcon is in less than a month? I can't wait!
Here's a chicklet of the image of Kevin Cannon's poster for Fallcon for your website, blog or social networking site…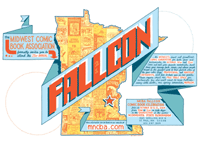 Fallcon is also on Facebook here.
See you there!
Please comment!