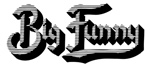 Well, the BIG FUNNY project has been a big success by any measure… thanks much to all who contributed to and otherwise supported the project. Note that the show is still up until the 29th, and if you haven't seen it yet, you won't want to miss it. If you can't make it to the gallery, you can still order copies online here.
Altered Esthetics has kindly invited us back to help organize another comic art gallery show next year. What do you all want to do for it? Please discuss in the comments of this post.
Here are some more reviews of the BIG FUNNY show and publication:
Here are previously linked reviews of BIG FUNNY:
Amy Crehore's Little Hokum Rag
Note that there are a LOT of other links to press we have received on our BIG FUNNY Facebook group page.
Here are some links to photos of the BIG FUNNY show: