24 Hour Comics Day is this weekend!
Thanks to Carlos Merino for drawing the above poster for the Minneapolis event.
I hope you're already asleep in preparation!
Want to participate? Just show up. Table space is available on a first come, first served basis.

Please consider bringing some snacks to share and help fuel us into the night.

Late night pizza will be sponsored by our friends at the Midwest Comic Book Association and The Source!

Wet Paint will be there to help supply you with needed art supplies early in the event!
24 Hour Comics Day Minneapolis
October 1-2 9AM-9AM
Minnesota Center for Book Arts
Open Book building
(Just down the street from Big Brain Comics)
in the gallery, flexi space (after 12:30 on Saturday), and bindery (until 9am Sunday)
1011 Washington Ave S, Suite 100
Minneapolis, MN 55415
Phone: 612-215-2520
Questions about Mpls's 24-hour Comic Day?
Write to: 24hourcomicday@gmail.com
Mpls. 24-hour Comic Day Facebook page.
Mpls. 24-hour Comic Day tweets.
The 24-Hour Comic Day Minneapolis Blog
Here is a promotional chicklet you can use for your social networking site or blog or pong or whatever.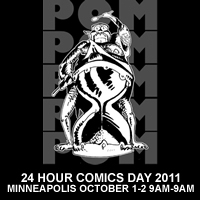 Not in Minneapolis? Not to worry… find a location on the international event site! Click the image below to go there.