Mark your calendars if you want to learn some tips and techniques for drawing for Flash: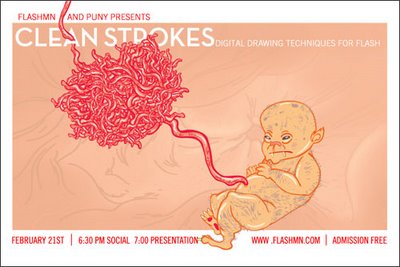 Minneapolis based animation and design studio PUNY presents "CLEAN STROKES: Digital Drawing Techniques For Flash." This presentation will feature various digital drawing techniques for creating art that is used in animation and video game art for clients like Cartoon Network and DC Comics. Presentation includes digital inking techniques for traditional artists using the inexpensive 4X6 Wacom Graphire tablet and a "sculpt and stroke" technique using the mouse. Extensive Q&A to answer particular questions about importing or creating art in Adobe Flash.
http://www.punyentertainment.com
When: February 21st 6:30 social 7:00 Presentation. Admission is free and open to the public. Free pizza and refreshments.
Where: FlashMN at Easel Training
More info and directions here: http://www.flashmn.com/