Comics historian Bill Blackbeard donated much of his collection to Ohio State a while ago… they have some information about it online here.
A particularly interesting part of this guide is the image reference to old cartoons, MANY of them utterly forgotten… one panel only in most cases, unfortunately, but it can be quite a tease.
An example:
Circus Solly
George Frink
April 30, 1905
Just ran across a particularly interesting entry they provided some extra info on… the first jam comics?
————————-
Crazy Quilt (various artists), 1914
Everett Lowry Quin Hall Lester J. Ambrose Charles Lederer Dean Cornell Frank King
Crazy Quilt was a full-page, sometimes interactive, Chicago Tribune feature that ran from April 12, 1914 to June 14, 1914. It consisted of untitled panel cartoons and the following series titles: And His Name Is Mr. Bones, Genial Gene, Simp Simpson, Old Doc Quack, Stone Age Stuff, Pinhead Pete, Hi Hopper, Freddy Frappe. Crazy Quilt was an unorthodox arrangement of strips and panels printed sideways, upside-down, criss-cross, etc. Notably, this feature used self-reflexivity; different artists working on individual strips interacted so that, for example: panel borders were breached by characters from one title entering a panel of another title, single panels that acted as the intersection between criss-crossing strips would include characters from both strips and would be incorporated into both storylines, etc.
—————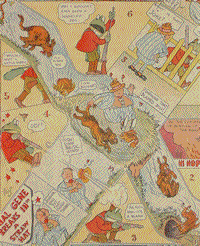 This topic is continued on the board here.