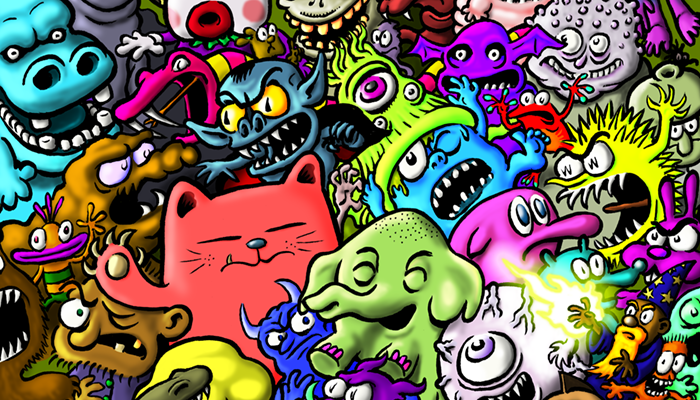 Hello, fellow conspirators!
A card game called Squirmish that I've been working on for the last year and a half is currently on Kickstarter (ending June 12th). Please check it out! I'd love to hear what you think about it. It is a 2-4 player beast-battling card game for ages 7+, and it takes about 30 minutes to play.
Here is the video for the kickstarter:
Here is what the reviewers are saying about it:
"Overall, I've had fun with Squirmish both with my kids and with adult players. I think it's a lot of fun for families. The dice-based abilities mean that there's still a good amount of chance involved, which gives less-experienced players a chance to take on more-experienced players, so gamers who want something with pure strategy may not like it quite as much. And don't forget to shout your battle cries as you enter the fray!" – Jonathan H. Liu on Geekdad.
"I get several requests for Kickstarter previews every week. Recently, I was sent a request for coverage for a game called Squirmish that was designed by a gentleman named Steven Stwalley. My heart sunk a little bit when I saw the words "card" and "combat" in his elevator pitch, but that all went away when I looked over the art assets he gave me. Squirmish's art is juvenile, obnoxious, and maybe even a little gross. In other words? I loved it." – Stephen Duetzmann at Engaged Family Gaming.
"It's a really good game! I like the fighting." – Ty (age 9) of Board Gaming at Home.
"Ty's age, absolutely brilliant game. If there's one downside, it's the sheer variety." – Russell of Board Gaming at Home.
"I like all the little characters that have been made up… they're great fun." – Kelly of Board Gaming at Home.
"Want battling beasties that you don't have to find in blind packs? Want the world's best collection of creature designs, names, and battle cries (that provide +1 damage if shouted aloud during your turn) that I have ever seen? Want a kid's card game you'll actually want to play with your kid? Back this very modest Kickstarter and get the whole 108-card pack (plus stretch goals)! Highly recommended." -Zander Cannon (Eisner-award-winning cartoonist behind Kaijumax, Heck, and Top 10)
The initial deck is 54 cards… it goes up to 108 cards if we hit $15,000.
Thanks for listening! Please tell your friends!