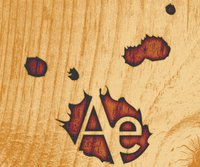 The Cartoonist Conspiracy is immensely fortunate to have found Altered Esthetics gallery to collaborate with. A non-profit, community and artist centered gallery, we have collaborated with them on the Eric Lappegard Benefit and Lutefisk Sushi Volume C, and this Summer we will be working with them to put together Big Funny (submissions due May First!).
Mark your calendars, because next month is Altered Esthetics fifth birthday, and to celebrate they are having a party/art show/fundraiser April 17th!
They are requesting wood-themed art donations for their fifth 'wood' anniversary. Find out the details of how you can donate art to them here.
One other very cool way you can contribute is by donating art to be in the Art Vending Machine
… mini-comics seem made for this.
Please consider donating art, and please let them know the Conspiracy sent you!
alteredesthetics.org/fiveyears

April 2009 marks our fifth birthday! We're having a giant celebration to commemorate the occasion, in conjunction with our Spring Fundraiser.

Please join us on April 17, 2009 for a celebration and fundraiser featuring:

– A wood-themed art exhibition and silent auction
– A raffle with awesome prizes and goods from local businesses
– Live music
– Refreshments
– Wood themed games
– Awesome company
– And more!

Schedule of Awesomeness
5:00pm: Raffle, Silent Auction, Games, DJ
9:00pm: Silent Auction and Raffle ends, winners announced
9:30pm: Live music begins, festivities continue, the people rejoice.
Please comment!