Monthly Archives: February 2014
Hi Jammers
I think we should cancel the St.Paul Jam tonight. We can wait till next month.
~Dave
February 7000 BC Meeting | Saturday, February 22 | 1:00–4:00 | Big Adventure Comics | 801 Cerrillos Rd., Suite B | Santa Fe, NM
For the February 7000 BC meeting, we'll gather in the new gaming space at Big Adventure Comics in Santa Fe. We'll be making our last preparations for STAPLE and planning for ACE (which will be here sooner than we think), as well as sharing recent working and creating a jam comic.
All interested in independent comics are welcome — send an email with any questions.
Creating Comics Workshop at Big Adventure Comics | Thursday, February 20 | 6:30–8:30 pm | Big Adventure Comics | 801 Cerrillos Rd., Suite B | Santa Fe, NM
Word and image combine in comics to form a storytelling medium like no other. Discover the visual language that makes comics unique in this free fast-paced, hands-on workshop. Learn how comic techniques apply to other forms of communication. Get a fresh perspective on your own creative work. Take the first steps to becoming a comic creator. Though you will be drawing, this is not an illustration class — stick figures are just fine!
Presented by 7000 BC and AIGA New Mexico.
Update: check out this video by Narrative Media:
"Creating Comics" Workshop with Bram Meehan from Narrative Media on Vimeo.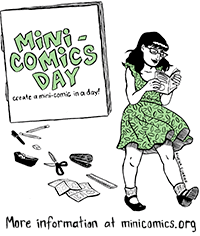 Mini-Comics Day is coming up fast! Tell your friends!
If you plan on hosting a Mini-Comics Day event, contact us at

to have your event added to the list. Read more about what is involved in hosting an event in the FAQ.
In Minneapolis, we'll be having a Mini-Comics Day mini-comics swap in the evening at a location to be determined.