Participate in The Gross Comics Project
This month, some members of the Minneapolis Cartoonist Conspiracy cell embarked on the Gross Comic Project at our monthly Saturday Open Studio. It isn't what it sounds like.
Like 24 hour comic day, the goal of the Gross Comic Project is to produce a certain number of pages in a certain amount of time… in this case 144 pages in 144 hours… a gross of pages, get it? 12 hours a month for a year.
Unlike 24 hour comic day, however, the goal of these comics is quality more than speed… if we are going to invest this much time in it, we want to produce something fun, readable and well-drawn, rather than just quickly produced. To that end, we allow all the planning, drawing, and even working on actual pages outside of the monthly 12 hour sessions that a cartoonist chooses to do. However, the 12 pages should be completed by the end of the 12 hours.
If you go over, that's fine, just get it done as quickly as possible after that... if it takes you until the next month, though, I'd say that would be a definite failure.
Here are the completed first month's 12 pages from this weekend: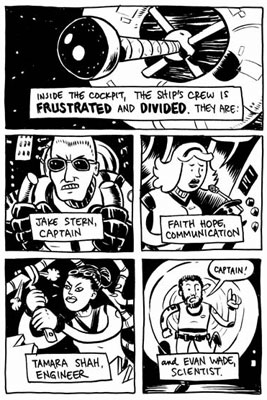 Here are the first 12 pages of Kevin Cannon's Oceanis.
Here are the first 12 pages of Zander Cannon's Heck.
Here are the first 12 pages of Steven Stwalley's Ezekiel Fishman Versus the Martians.
Note that this project was inspired by the stellar work Kevin Cannon is doing on his
288 Hour Graphic novel Far Arden
. Since he is doing a Gross Comic this year as well, I think he will probably hold some sort world's record for this sort of thing (he probably already does). That's right, Kevin will be doing (at least) 432 pages in an hour this year... more pages than there are days in the year!
We have at least 6 other cartoonists joining us in this undertaking next month...
Dank!
,
Shad Petosky
,
Tim Sievert
,
Maxeem
,
Curtis Square-Briggs
and
Eric Lappegard
.
You can join us too!
We'll link to all participants from this blog... just send the link to us, or put it in the comments.
Our next 12 hour session in Minneapolis will be at the next Minneapolis Saturday Open Studio (where it will be every month). The Saturday Open Studios happen on a different day every month, so you'll have to check the site for the dates. The next two are March 17th and April 21st at:
Minnesota Center for Book Arts
(Just down the street from Big Brain Comics)
1011 Washington Ave S, Suite 100
Minneapolis, MN 55415
Phone: 612-215-2520
Those of you participating other places may want to consider doing it on the same day, because it will be more fun to have all this stuff hit at once, but it isn't a requirement.
Judging from the pages so far, I think this is going to be a pretty amazing project to look back on in a year.
Labels: 24 Hour Comics, Minneapolis, Projects, The Gross Comic Project