***All New***-- the Tommy Robot blog!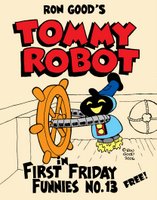 Hi everyone! I haven't posted anything here in a while. Just wanted to show you all this image from my new Tommy Robot blog.
http://tommy-robot.blogspot.com/
I'm trying to do more of comics online 'cause it doesn't cost me money. Hope you all like it!