In addition to our usual jam this meeting, we will have a special presentation by Kirk Taylor on cartoonist Wesley Morse. Morse was the creator of Bazooka Joe, and an uncredited illustrator of many of the best examples of the notorious tijuana bibles. In many ways, Morse was the prototypical underground cartoonist. Kirk's presentation will feature works from the Taylor-Morse collection, a unique collection of beautifully illustrated love letter cartoons that Morse wrote to Kirk's great aunt, chorusgirl Avonne Taylor. Read more on the Taylor-Morse collection website. The presentation will begin at 8:00. Thanks much to Puny Entertainment for providing the space and projector for the presentation!
The Minneapolis Cartoonist Conspiracy meets at 6:30 until 10:00 the first Thursday of every month at Diamond's Coffee Shoppe in Northeast.
Generally, we draw collaborative "jam" comics, socialize and drink caffeinated beverages. Afterwords, we often have uncaffeinated beverages somewhere else.
The meetings are open to anyone who wants to draw with us, and the results are posted here sooner or later (and sometimes even printed).
Diamond's Coffee Shoppe
1618 Central Avenue Northeast
Minneapolis, Minnesota
Please spend some money at Diamond's while you're there, even if it is just a cuppa coffee… they are excellent hosts, and we wanna stay welcome there.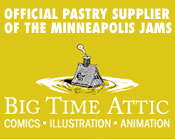 Big Time Attic hosts our monthly jam meetings at Diamond's… they will be supplying us with a big old plate of pastries or something. Thanks fellas!
4 comments... Thanks!