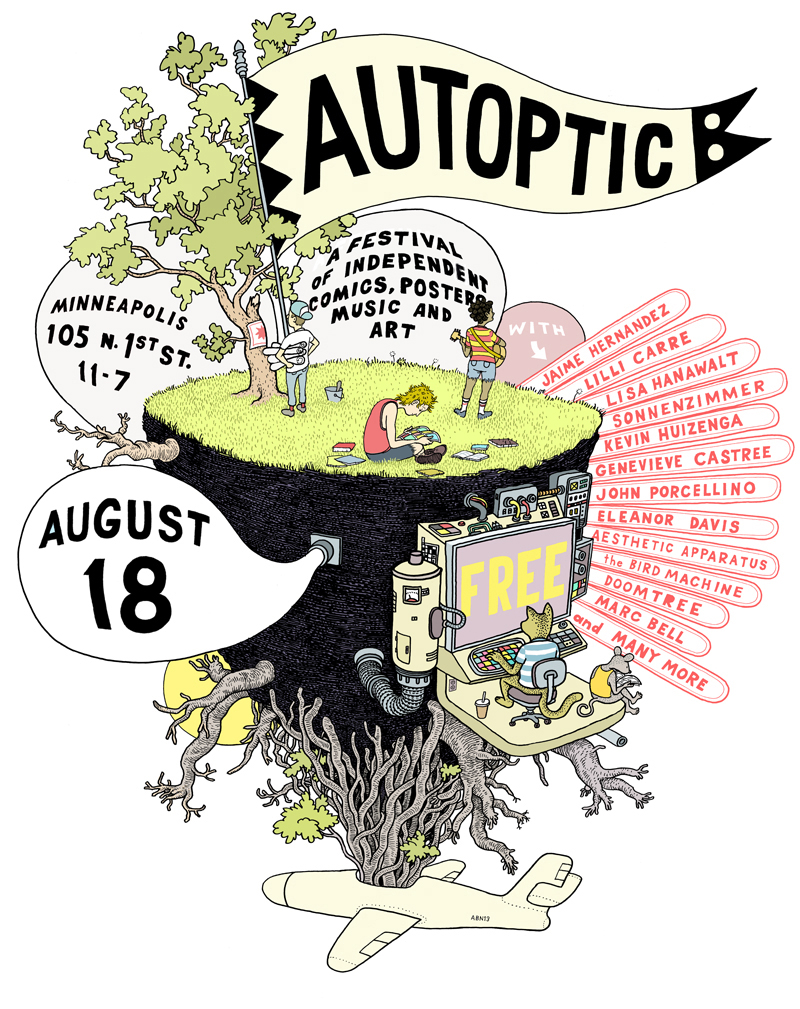 AUTOPTIC Poster by Anders Nielsen
There have been some exciting recent press releases about the upcoming AUTOPTIC festival happening in Minneapolis. It sounds like it is going to be an amazing event.
AUTOPTIC
August 18th, 2013 | Minneapolis, MN
http://autoptic.org
info@autoptic.org

AUTOPTIC ANNOUNCES MORE GUEST ARTISTS!

AUTOPTIC is pleased to announce its incredible second round of Guest Artists:
Marc Bell
Genevieve Castree
Domitille Collardey
Lisa Hanawalt
Kevin Huizenga
John Porcellino
Jim Rugg
Eleanor Davis
Lilli Carre

We are thrilled to have cartoonists and artists of such an incredible caliber present for our inaugural show. If you don't already know the jaw-dropping work of these wonderful artists, please use the links below to discover for yourself what a great line-up of exhibitors we're putting together. Once you've seen the work, we're pretty sure we'll be seeing you on August 18th!
Marc Bell: http://goo.gl/UKUQv

If you'd like to also exhibit at AUTOPTIC, make sure you have your application in by MARCH 31st.
And:
AUTOPTIC is pleased to announce its partnership with the International experimental comics laboratory/residency Pierre Feuille Ciseaux (or PFC)!

PFC ("Pierre Feuille Ciseaux", or "Rock Paper Scissors" in French) is an experimental comics laboratory formerly held on the grounds of a 17th century salt factory (Saline Royale, Arc et Senans) in rural France. Beginning with its first incarnation in 2009, PFC has brought an international group of cartoonists, illustrators, printmakers and artists together for one week, with no distractions. The artists live, eat, sleep and work together with one sole focus: to create new work in a collaborative setting. The primary purpose of the residency is to explore and invent new ideas about the Comic Art form ("Bande Dessinée" in French) through collaboration (often across language barriers) and experimentation (using the French experimental tradition of "OuBaPo" restrictions as a catalyst). On the final day, the results of the week's collective work are displayed in a gallery setting, and the public is invited to interact with the artists in the form of workshops and public talks. For this, the first North American edition of the PFC, its originators, June Misserey and members of Association ChiFouMi, will be coming to the U.S. to co-lead PFC 4 with Barbara Schulz, head of the Comic Art Department at the Minneapolis College of Art and Design, Zak Sally (cartoonist and US liaison to the PFC), and cartoonist Anders Nilsen. Featuring a group of ten North American comics authors as well as 6 artists from France and Belgium, the week-long comics laboratory will be held in association with and hosted by MCAD, where the artists will live and work for the duration of the residency.

An exhibition of the week's work will be presented to the public on August 17th, in MCAD's Concourse Gallery. All of the artists listed below will be in attendance at AUTOPTIC. Confirmed artists include:

From North America:

Eleanor Davis (Athens, GA)
Kevin Huizenga (St. Louis)
John Porcellino (Beloit, WI)
Lisa Hanawalt (NYC)
Lilli Carre (Chicago)
Jim Rugg (Pittsburgh)
Tomasz Kaczynski (Minneapolis)
Domitille Collardey (NYC)
Genevieve Castree (Anacortes, WA)
Marc Bell (Toronto)

From Europe:

Sandrine Martin ( Paris, France)
Emilie Plateau (Bruxelles, Belgium)
Benoit Preteseille (Angouleme, France)
Pierre Ferrero (Lyon, France)
Jean-Christophe Menu (Paris, France)
David Libens (Bruxelles, Belgium)
Max de Radigues (Bruxelles, Belgium)

PFC 4 overlaps and interacts with a major retrospective of the work of Jaime Hernandez, renowned
creator of "Love and Rockets" in MCAD's main gallery (with the artist in attendance for the closing
event, Friday August 16), as well as Minneapolis' first "festival of independent culture", AUTOPTIC, on
Sunday August 18th.

THE ORGANIZERS
AUTOPTIC is brought to you through the combined efforts of:
Uncivilized Books
Tom Kaczynski
2D Cloud's
Raighne Hogan and Justin Skarhus
Talk Weird Press'
Caitlin Skaalrud
Grimalkin Press'
Jordan Shiveley
in absentia press'
Robert James Algeo
Jennifer King
Anders Nilsen
La Mano 21's
Zak Sally
Please comment!