Do you hear that?


There is less than a month until 24 Hour Comics Day!
Thanks to Carlos Merino for drawing the above poster for the Minneapolis event.
We better get some sleep!
24 Hour Comics Day Minneapolis
October 1-2 9AM-9AM
Minnesota Center for Book Arts
Open Book building
(Just down the street from Big Brain Comics)
1011 Washington Ave S, Suite 100
Minneapolis, MN 55415
Phone: 612-215-2520
Questions about Mpls's 24-hour Comic Day?
Write to: 24hourcomicday@gmail.com
Mpls. 24-hour Comic Day Facebook page.
Mpls. 24-hour Comic Day tweets.
Here is a promotional chicklet you can use for your social networking site or blog or pong or whatever.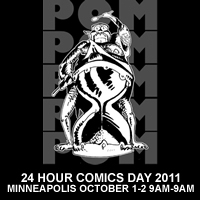 Not in Minneapolis? Not to worry… find a location on the international event site! Click the image below to go there.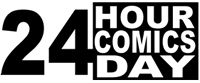 Please comment!