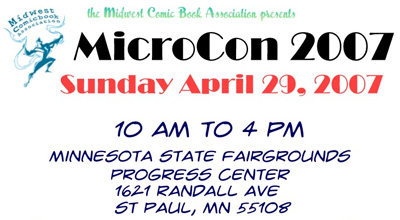 We'll be at MicroCon 2007 this Sunday. MicroCon is the little sister convention of the wonderful FallCon, both run by Midwest Comic Book Association. They are gracious and generous hosts to cartoonists, and offer free tables to all cartoonists who request them in time at both their conventions. Please stop by and see us and check out the fun. Our table will be run by Danno, Bud Burgy (selling copies of his cool new anthology Muscles and Fights) and myself. Please check out the MNCBA site for the latest info.
MCBA MICROCON COMIC BOOK CONVENTION
Sunday April 29, 2007 10AM to 4PM
Minnesota State Fairgrounds
Progress Center
1621 Randall Ave
Saint Paul, Minnesota 55108
(Enter through the main gate on Snelling Ave, go 2 blocks and go right)
Please comment!