Archive for April, 2007
Saturday Open Studio
Maybe it won't be raining
Sat., April 21, noon-4 p.m., MCBA
We'll be somewhere in the Book Arts Building.
If you don't see us right away, ask the friendly person working in the bookstore. This is open studio time for all cartoonists, so come and hang out and draw. There's plenty of room for everyone.
The third installment of the 12-part 144-page graphic novel challenge (pages 25 through 36!) will be happening during the open studio. Cheer on the page-crazed cartoonists. Or join in! Participants start drawing in the MCBA coffee shop at 8 a.m.
Minnesota Center for Book Arts
(Just down the street from Big Brain Comics)
1011 Washington Ave S, Suite 100
Minneapolis, MN 55415
Phone: 612-215-2520
Future Sat. Open Studio dates:
May 12
June 9
July 21
August 18
No comments
The Minneapolis Cartoonist Conspiracy meets at 6:30 until 10:00 the first Thursday of every month at Diamond's Coffee Shoppe in Northeast.
Generally, we draw collaborative "jam" comics, socialize and drink caffeinated beverages. Afterwords, we often have uncaffeinated beverages somewhere else.
The meetings are open to anyone who wants to draw with us, and the results are posted here sooner or later (and sometimes even printed).
Diamond's Coffee Shoppe
1618 Central Avenue Northeast
Minneapolis, Minnesota
Please spend some money at Diamond's while you're there, even if it is just a cuppa coffee… they are excellent hosts, and we wanna stay welcome there.
Big Time Attic is now officially hosting our monthly jam meetings at Diamond's… they will be supplying us with a big old plate of pastries or something each month. Thanks fellas!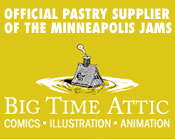 No comments