Time to Register for and Promote Fallcon 2007!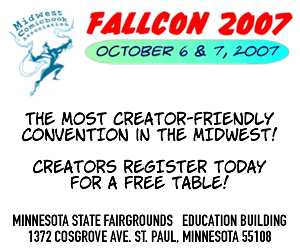 FallCon 2007, Minnesota's Premier Comic Book Convention
, is coming up on October 6th and 7th, and you should register for it NOW. The wonderful annual event (now in its 19th year) is unparalleled in its generosity and hospitality to creators, and offers free tables for any creators who want them. Space is limited.
DOWNLOAD THE REGISTRATION FORM TO PRINT OUT AND SEND THEM HERE.
I've also whipped up some banners for you all to put on your websites and blogs... lets help make this the biggest FallCon yet.
728x90
728x90 Alternate
300x250
300x250 Alternate
468x60
468x60 Alternate
170x50
88x31
Download all banners
Link them all up the the Fallcon website here.
Labels: Events