Eric Lappegard (our dear Schmapples) passed away July 23, 2007 from complications following an automobile accident. Eric was a bright light in the Minneapolis cartooning, biking, and music communities. His passion, talent, enthusiasm and gentle smile will be missed terribly.
Eric's obituary can be read here.
The final week of Schmapples comics, drawn the week before Eric's accident and not posted until after his death, can be seen here.
If you haven't read the earlier strips, I highly recommend reading them first.
You can see the strip Eric had in City Pages the week he died here.

Please consider donating to help his family through the considerable expenses they have incurred from this horrible tragedy.
Donations can be sent to: Account of Eric Lappegard, Voyager Bank, 500 Marschall Road, Shakopee, MN 55379
There will be a benefit event to help Eric's family happening on September 8th in the Twin Cities. It will include a bike race, a gallery show, a collection of the complete Schmapples, a Eric Lappegard tribute comic anthology called Alley Cat, and a music event. More information about that can be found here and here. The press release for it will be posted here soon.
You can leave condolances to Eric's family here.
Beerwolf, a movie featuring Eric playing multiple roles, will be showing at the Uptown Theater this Friday, August 10th at midnight..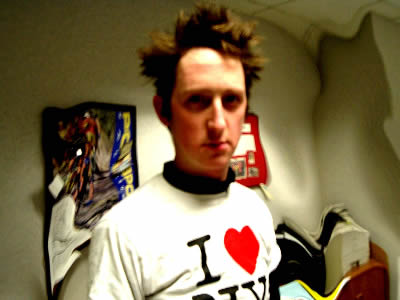 REST IN PEACE, ERIC.
October 22, 1978 - July 23, 2007
We are looking for photos of and artwork by Eric to house on this website and to pass on to his family, ideally as soon as possible.
Send photos to: mplsminx at gmail.com
Send artwork to: steven at stwalley.com
Presumably, the website will disappear from this address (ericlappegard.com) now that the bill isn't being paid, so I have given it a more permanent home at:
cartoonistconspiracy.com/schmapples
Eric was much too good, too talented and too young to lose. Read some of his wonderful comics here to get a small sample of his unique spirit.
Steven Stwalley
Webmaster, The International Cartoonist Conspiracy