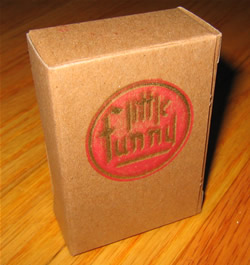 little funny is an ongoing series of mini-comics boxed and sold out of an old cigarette vending machine.
The little funny set 1 box sets each contain 6 accordion-style mini-comics.
The 6 comics in a set 1 box are randomly selected from the 29 issues in the first set.
Boxes sell for $2 each.
They are only sold out of a vending machine currently housed at Altered Esthetics gallery.
They will make their premiere at the BIG FUNNY show opening August 7th, 2009.
A photo gallery of all the issues to date can be seen below.


littlefunny00.jpg

littlefunny01.jpg

littlefunny02.jpg

littlefunny03.jpg

littlefunny04.jpg

littlefunny05.jpg

littlefunny06.jpg

littlefunny07.jpg

littlefunny08.jpg

littlefunny08b.jpg

littlefunny11.jpg

littlefunny12.jpg

littlefunny13.jpg

littlefunny14.jpg

littlefunny15.jpg

littlefunny16.jpg

littlefunny17.jpg

littlefunny18.jpg

littlefunny19.jpg

littlefunny20.jpg

littlefunny21.jpg

littlefunny22.jpg

littlefunny23.jpg

littlefunny24.jpg

littlefunny25.jpg

littlefunny26.jpg

littlefunny27.jpg

littlefunny28.jpg

littlefunny29.jpg

littlefunny30.jpg

littlefunny31.jpg

littlefunnybox.jpg