24 HOUR PRESS RELEASE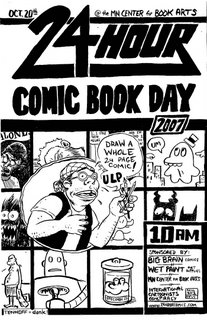 24 HOUR COMICS DAY
October 20th, 2007
Start time: 10am
@ the MN Center For Book Arts
1011 Washington Ave S, Suite 100Minneapolis, MN 55415
24 HOUR COMICS DAY us a yearly international event in which cartoonists around the globe take up the challenge of writing, drawing, and inking an entire 24 page comic in only 24 short hours. (The standard 24 page comic book usually takes about a month to produce.) The 24 HOUR challenge is as close to an extreme sport as most cartoonists will ever come. Thankfully, they get to do it all sitting down.
It is the 4th year of the event and and the fourth time the Minneapolis cell of the International Cartoonists Conspiracy and Big Brain Comics will be the local sponsors.
MN Center for Book Arts will be hosting the event for the 3rd year, and the third year Wet Paint Art Supplies will be co-sponsoring.
Signing-up to participate can be done online by emailing Conspiracy Events Coordinator Danno Klonowski at
staplegenius@yahoo.com
Willing participants may also show up and register the day of the event at Book Arts(preferably before the 10am start time).
Last year we had about 50 cartoonists brave the challenge and nearly everyone succeeded. We're hoping to grow our ranks even more this year.
Returning local 24 HOUR alum already ready to face the 2007 challenge include Kevin Cannon, Zander Cannon, Danno Klonowski, Steve Stwalley, Ken Avidor, David Steinlicht, Kevin McCarthy, Michael Furious, and Earl Luckes.
24 HOUR COMICS DAY doesn't provide the thrills to an observer of a high-speed chase, but it makes for interesting people watching(well, watching people draw) and around 4am it usually breaks down into uncontrollable giggling and shouts of profanity. So, its family-friendly and fun for the kids!
http://www.24hourcomics.com/