How to Make Mini-Comics
We recently completed work on the first volume of the Cartoonist Conspiracy L'il Library (to be used at this weekend's
Mouth Off event at The Center For Book Arts
)...
How to Make Mini-Comics
. Click on the image below to download the pdf... then print it out, cut it up, fold it, staple it and learn. Please note that this is a pretty big (4MB) file, so please help conserve our bandwidth and only download it if you intend to use it.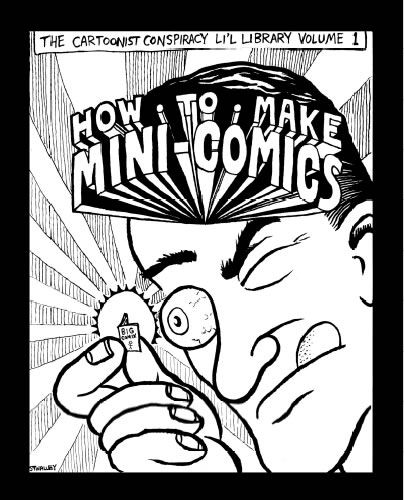 This work is licensed under a
Creative Commons Attribution-Noncommercial-No Derivative Works 2.5 License
. It may be printed and distributed freely. It is intended to be an educational tool, and it is our hope that it will be widely used as a "textbook" for teaching how to make a mini-comic.
Thanks to
Adam Wirtzfeld
,
Bob Lipski
,
Maxeem
,
Bud Burgy
,
Zander Cannon
,
Kevin Cannon
,
Dank!
, and
Eric Lappegard
for helping me (
Steven Stwalley
) put this together.
Note that any cartoonist who is interested can contribute a volume to the new Cartoonist Conspiracy Li'l Library. This is intended to become a downloadable pdf library of cartooning tips and techniques in mini-comics format, all using the above creative commons license.
Let us know if you're interested.
Labels: Cartooning Lessons, Cartoonist Conspiracy Li'l Library, Lessons, mini-comics, Projects, Useful Information