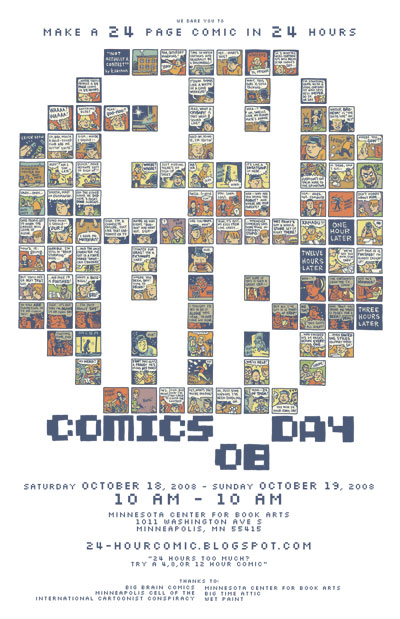 Mark your calendars for Minneapolis' fifth annual "24 Hour Comics Day" event. The details are as follows:
24 HOUR COMICS DAY
Saturday October 18, 2008 – Sunday October 19, 2008
10am – 10am
Bring food to share, and art materials for yourself (but know that Wet Paint will have a booth set up so you can buy all your stuff there if you want!)
For all the latest info, check out 24-hourcomic.blogspot.com
To register, email your name, email address and phone number to us at mpls24hourcomicday at yahoo.com. You can also ask questions there, but we would prefer if you did it in the comments for this post, as it will hopefully answer other people with the same question!
We will be making another box set collecting comics from this year's event. We hope all event participants will want to participate in this as well. Everyone contributing a mini-comic to the box will get a copy of the box. In previous years we have made 100 of these… this year there will be less… the number is tbd, based on the number of participants.
Help spread the word by posting/printing/emailing the fantastic poster by Kevin Cannon (who may hold the world record for most 24 hour comics drawn)! Choose from:
400 px wide (blog-friendly)
800 px wide
1600 px wide (cartoon is readable at this size)
hi-res black (good for printing)
Thanks much to our sponsors at Big Brain Comics, Big Time Attic, the Minnesota Center for Book Arts, and Wet Paint!
Here is an icon you can use on your blog sidebar, social networking site, etc. to link to the 24 hour Mpls blog:
Here is a link to the official 24 Hour Comics Day website for the international event. Here is Scott McCloud's dare which defines what a 24 hour comic is.
4 comments... Thanks!