Apologies to those that this may have affected. After transferring files from my old computer to my new computer, I noticed these PDFs lying around, which I forgot to post after their creation. Therefore, I present to you, the lost St. Paul Conspiracy Jams!
February 2008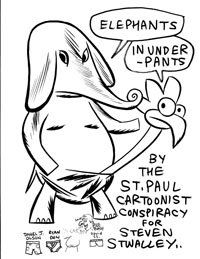 March 2008
April 2008
Special thanks to the St. Paul Conspiracy members for working so diligently on these jams, Kevin McCarthy for getting on my @$$ to get these posted, and to David Steinlicht for showing me up last week by posting within days of receiving the jam pages.
2 comments... Thanks!