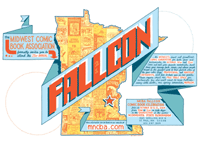 Fallcon, The Twin Cities biggest and best comic convention is this weekend! Come and hang out with us in the "Conspiracy Lounge" to doodle and shoot the breeze.
FALLCON
October 10 & 11, 2009 – 10AM to 5PM Both Days
Minnesota State Fairgrounds
IN THE GRANDSTAND
Hope to see you all there!
Please comment!