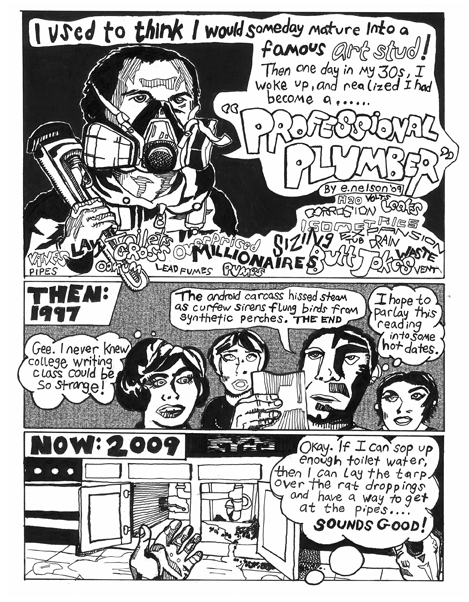 Hey Minneapolis cartoonists…
A couple Saturdays ago I discovered a leak in my basement, so I turned to our old friend the Google search for a plumber.  Somehow this lead me to www.eriknelsonplumbing.com .
Anyway, I called Erik and he agreed to waste a Saturday fixing my ancient plumbing…FOR MONEY!!!
AND HE'LL FIX YOUR PLUMBING FOR MONEY TOO! And he'll do an AMAZING job at reasonable rates (and for anyone who has actually had to pay for a plumber, you'll understand how important that is).
Why post about this on the Conspiracy website? Cause as it turned out not only was Erik a plumber, but he had attended his first Cartoonist Conspiracy (MPLS cell) meeting a few weeks earlier!
Crazy small world.
So remember…when you're in need of COMICS, check out www.nelsonerik.com
And when you need a PLUMBER, check out www.eriknelsonplumbing.com
Erik happily provides both.
He'll also provide to world soon a new comic WALKABOUT #1–check ou his website  for more info.
Please comment!